Feb. 26, 2019 -- Tibetan antelopes gallop across a pasture in Nyima county, Tibet autonomous region, in September 2017. ZHANG RUFENG/XINHUA
Region places conservation ahead of development; wildlife numbers rise
Feb. 26, 2019 -- The Tibet autonomous region has been making great efforts to protect its natural environment and has vowed to maintain the region as one of Earth's purest landscapes.
During the annual two sessions in 2015, President Xi Jinping called on people to protect the environment as they would their own eyes, and care for the environment in the same way they would care for their own lives.
Xi's words were widely accepted by local governments and residents in Tibet, and the region has put environmental conservation ahead of tourism development. In fact, it will reduce the number of tourists visiting certain scenic spots close to glaciers this year, such as Mount Qomolangma (known as Everest in the West).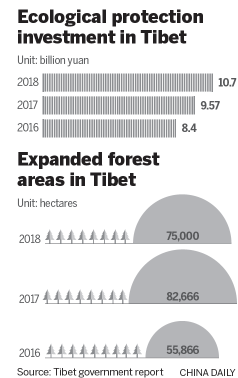 At the annual sessions of the region's people's congress and political advisory body in January, authorities called for more pollution control through greater input and efforts this year.
"Tibet remains one of the best ecological environments in the world," said Qi Zhala, chairman of the regional government, during the congress earlier this year. "In 2019, our goal is to achieve the targets for energy consumption, carbon intensity and pollution reduction set by the State, with major cities seeing fairly good air quality on more than 95 percent of days."
All levels of government are responsible for the environment, and the Tibet regional government has been encouraging rural residents to undertake the task, with 667,000 jobs related to the environment offered in 2018.